WKF MMA WORLD archive
Date: 2019
January 18, 2019
WKF ROMANIA president Florin MINA announce next European Championship 2019 in Baia Mare.
From October 21st to 26th our European WKF family meet in beautiful Romania.
Over 30 countries will participate and there will be matches from kids to juniors to seniors.
In the final day will be 12 fights with important and great fighters like 
Cristian "The Fastest" Milea
, Costin Mincu
and many others.
For further information, Hotel booking and more contact
Mr. Florin MINA
by
mail
.
January 15, 2019
From the beginning in WKF we split very clearly amateur and pro business, in MMA as well as in PPF and PRO-AM. Always TOP is our SANDA & WUSHU division.
This is to follow many requests and wishes of our clients , managers and thousands of our fighters from all over the World. Today we are very successfully not only in pro sport but of course in amateur business too.
With great pleasure we want your poster of WKF sanctioned tournaments, with our logo on the poster. We would like to help with online advertising free of charge, of course. Short reports after would be great.
We just want to remind every WKF country president World wide to send fighter profiles of your amateurs or just non-professional male/female fighters in ring sport.We have same system like in other pro sport in WKF.
We offer the chance to fight in all 4 ring sport divisions for our great demand WKF Champion belts. Here are our 5 pro divisions, with valid World ranking lists, rules, title fight minimum requirements and much more
PRO – AM / PPF / PRO RING SPORT / MMA / SANDA
Our WKF PRO AM titles has a great value because of our World wide network with today 126 member countries you have the chance to fight not only at home. And no fighter will lose his/her amateur status , he/she can fight still on any tournament, any World Championship World wide. And you can be sure just to face another amateur fighter with perhaps 15 to 20 fights and not real pro with more than 100 fights.
The rules and regulations for PRO AM are easy to understand and waiting for your download.
All you have to do is just send your fighter profile and jpg photos like always and we post your team online in the PRO AM World ranking.
Because: only male/female fight in our PRO AM World ranking are qualified to fight for our WKF titles.
For further requests or interest on any possible PRO AM title fights do not hesitate to send a mail , please.
January 10, 2019
WKF CHINA is moving forward. Our office in Beijing is always in negotiations with local promoters for next events.
For 2019 we have more than 20 events scheduled in China. Soon we will have our next Chinese WKF professional Champions.
And many promoters World wide are also serious interested to challenge Chinese champions as well.
If you are a Chinese manager or promoter and you want to cooperate with our serious World sanctioning body, send your request just by mail to our head office. Minimum title fight requirements are here, rules to download here.
我們期待著用英語,
德語,
西班牙語或法語詢盤
January 8, 2019
January 7, 2019
First time in history in Asia
WKF sanction this great international event as World Cup !
January 6, 2019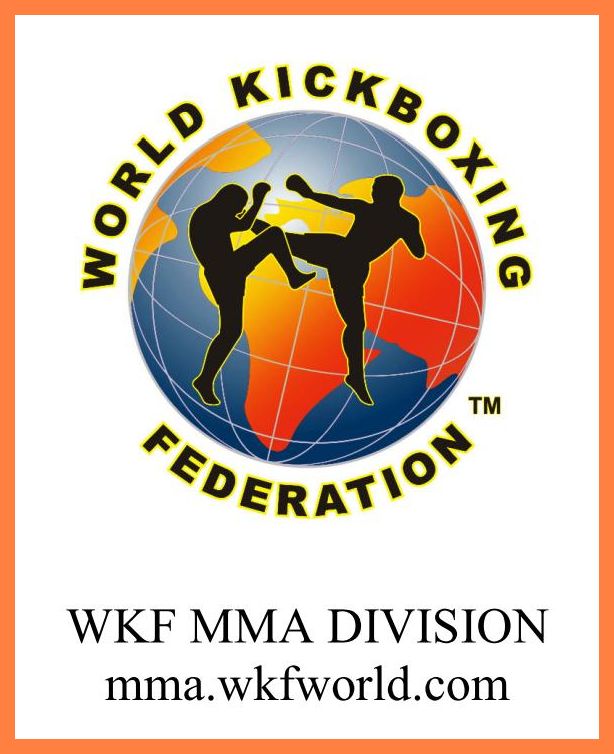 We have got many request for title fights around the World and many people ask about how it goes in our WKF MMA division.
It is very simple, everybody can download WKF MMA title fight minimum request , this should answer FAQ.

Like in Ring sport all fighters must be listed in the ranking, send your fighter profile with JPG photo and your fighter will be posted in the MMA European and World rankings.
If you want to promote PPF title fights send a "title application form" to our head office, to avoid all misunderstandings. All fees on request !
Detailed Rule books for amateur and pro MMA available. For further requests send just a mail to our WKF World head office.
January 5, 2019
WKF UK – UNITED KINGDOM, has a since one Year new leadership.
Mr. Andy HOPWOOD has all our trust and is high respected in our World of martial arts.
His first task is the reorganization in UK, appointment of new officials, negotiate with organizers for amateur and professional events. His most important task is also to form an UK team for the World Cup in November in Buenos Aires.
All WKF concerns in UK will be answered immediately by our new office,  MAIL !
Andy Hopwood is one of the UK's leading combat and fitness experts, with an established list of celebrity clients – from premier league footballers and motor racing champions to famous soap actors.
Andy has been involved in martial arts and fitness for 40 years and has twice been inducted into the prestigious 'Combat Hall of Fame'.
In 1995 Andy founded the highly acclaimed martial arts system, known as the British Free Fighting Academy.

Exciting News…
We now have a brand new dedicated martial arts centre! You can find us at:
Hopwood Fight Centre Ltd, Unit 19 Sugarbrook Road, Aston Fields Trade Estate, Bromsgrove, B60 3DN
Get directions
Read more here …